MISSION FOCUS FOR NOVEMBER
KATY THANKSGIVING FEAST
In or out of town for the Thanksgiving holiday, you can help make this a great day for some of Katy's struggling families. The Katy Thanksgiving Feast will be at First United Methodist Church in Old Town Katy on Thanksgiving Day.
Sign up at the Missions table or below. Drop your donations off in the Lobby from November 22-24.
Items needed include:
40 volunteers to prepare corn and bring to FUMC on Thanksgiving morning

100 fleece or twin-sized blankets

20 event day volunteers

Cash donations to purchase goods
Contact Kat Moore for more information at .
MISSION FOCUS FOR DECEMBER
Mission Gift Cards
You can give just the right gift to a loved one or friend and do something for someone who may be less fortunate than you are by purchasing a Missions Gift Card, which benefits one of five organizations. This is a great way to honor that special person who has everything. Please visit the Missions Table in the Lobby beginning Sunday, Dec. 6, to select cards benefiting Methodist Children's Home, United Methodist Committee on Relief, Christ Clinic, U.M. ARMY, and ZOE. There is no set cost for the cards, donate as much as you would like! For more information on any of these programs, please contact Nathan Bledsoe at or (281) 492-8031.
MISSIONS TABLE IN THE LOBBY
Watch for the Missions table in the Lobby on the first Sunday of each month that will highlight the current month's mission.
Click below for the 2015 calendar of monthly missions.
Would you like to sign up to receive the Mission's Monthly Focus newsletter?
Enter your email address and click the arrow...it's that easy!

MISSION NEWS
Nepal Earthquake Disaster
United Methodists joined Christians around the world in a prayerful response to the earthquake that has claimed thousands of lives in Nepal and neighboring China and India. You can donate HERE or by writing a check to St. Peter's and putting Advance #982450 in the "for" line.
European Refugee Relief
The United Methodist Committee on Relief is working with local partners in Europe to care for the large number of refugees seeking asylum in European countries. UMCOR is helping provide water, food, clothing, hygiene items, and other services to these people who are seeking a way out of desperate situations. You can help by making a donation to UMCOR International Disaster Response at www.umcor.org or by making your check out to St. Peter's, putting UMCOR Advance #982450 in the "for" line, and mailing it to the church office.
Syrian Refugee Crisis
The Turkish city of Sanliurfa has been overwhelmed by the influx of Syrian refugees fleeing the Islamic State (ISIS). The United Methodist Committee on Relief is supporting the work of partner International Blue Crescent Foundation in providing basic food packages and hygiene kits for families that have been displaced by the fighting. Your gifts to UMCOR enable them to respond to emergency needs like this one around the world, alleviating human suffering in times of crisis. You can donate online HERE or by writing a check to St. Peter's and putting Advance #982450 in the "for" line.
Habitat Comes to Katy
Houston Habitat for Humanity and Compassion Katy have formed a partnership to start making real and important change in our Katy area. Many people are unaware of the poverty and sub-standard living conditions affecting many Katy residents. Habitat builds homes that help transform lives, neighborhoods and communities.
If you would like more information or wish to volunteer with this organization, there are opportunities to get involved with the Construction (including site selection) Committee, the Family Selection and Education Committee, and the Fundraising Committee. For more information, contact Nathan Bledsoe at or (281) 492-8031.
Fondren Apartment Ministry
St. Peter's has a covenant partnership with the Fondren Apartment Ministry in southwest Houston. Two of our members live full time in FAM's intentional community. FAM is building Christian community among the refugee population living in the Los Arcos Apartments on Fondren Road through community gatherings, English classes, and other new and growing discipleship and education ministries. We are the first church to enter into a covenant partnership with FAM beyond their mother church, Westbury UMC. Because of this, exactly how we will do ministry together, learn from each other, and grow is still very much in the beginning stages. If you want to be involved in this exciting ministry, contact Nathan Bledsoe.

OTHER MISSIONS
The Society of St. Vincent de Paul
St. Peter's supports the Society of St. Vincent de Paul with its First for Food monthly food collection. Food collections and financial donations are provided to this organization to help families in the Katy area improve their quality of life. In addition to providing food, SVDP also offers qualified assistance with utility bills, mortgage/rent, gas, furniture, counseling, job search and other needs.
U.M. ARMY

U.M. ARMY stands for United Methodist Action Reach-Out Mission by Youth. U.M. ARMY's mission is "to provide Christ-centered quality youth work camps that serve people in need and promote spiritual growth and leadership development in youth."
St. Peter's students (who have completed at least one year of high school) and adults participate in U.M. ARMY for a week each summer, providing home repairs and maintenance for those who are unable to help themselves. U.M. ARMY is an opportunity to experience Christian growth through mission, worship and fellowship.
Visit the main U.M. ARMY Website here.
Disaster Recovery

Teams of volunteers are sent out to do cleanup and rebuilding work for victims of hurricanes and tornadoes. St. Peter's has been active in the past with Hurricane Rita, Hurricane Ike, and recently the damage done by tornadoes in Moore, Oklahoma and surrounding cities. We work through Disaster Recovery, an organization of the Texas Annual Conference. Contact Nathan Bledsoe at 281.492.8031 for more information on how to serve.
United Methodist Women
United Methodist Women work to serve women and children in need, participating and helping to fund the local, national and global missions of the church with our love, gifts and prayers. We support each other with open hearts. We encourage growth as individuals through shared reading, study and prayers. Our goals are mission, fellowship and learning. We meet twice a month.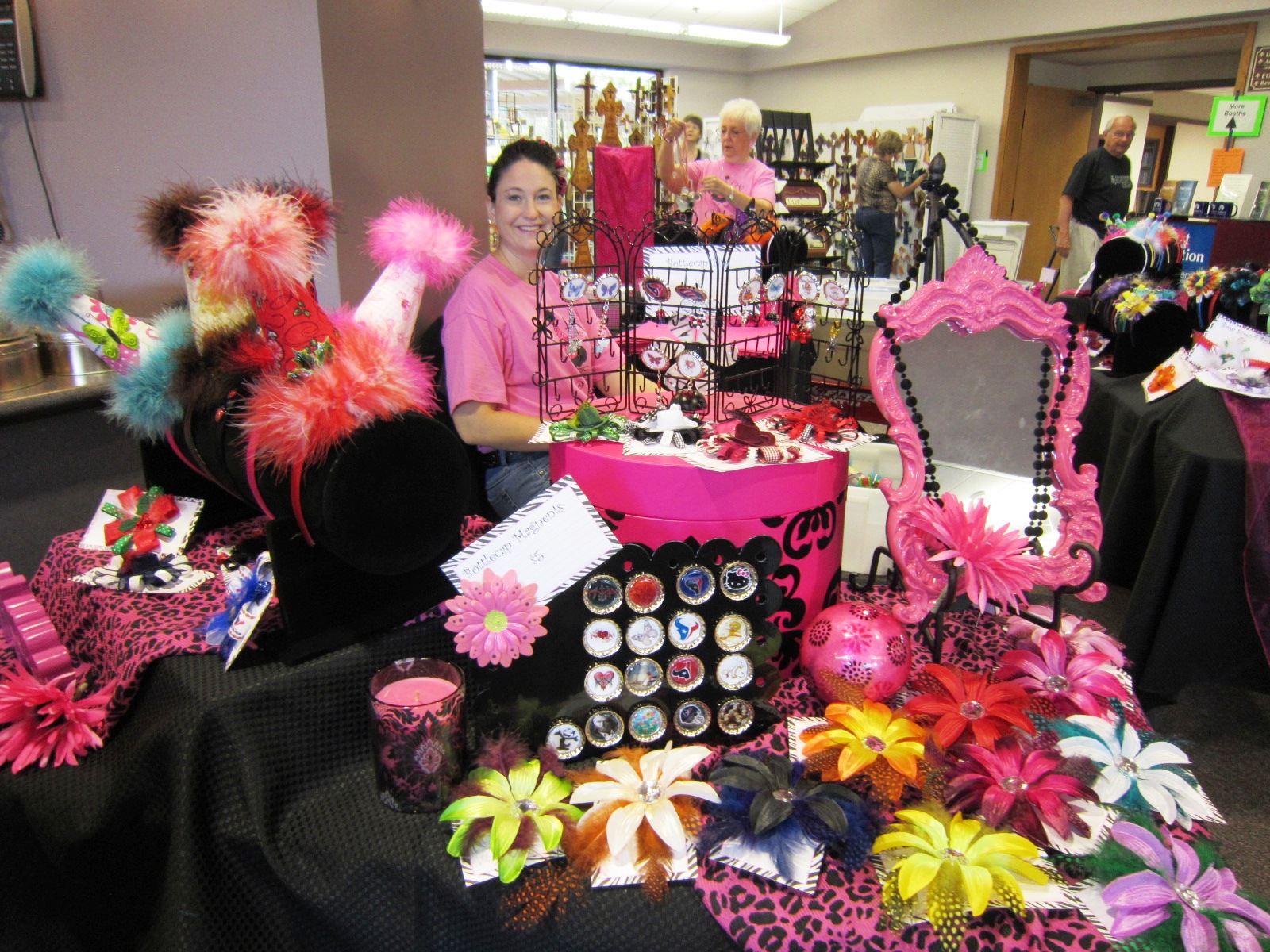 We sponsor the Pick-a-dilly Craft Fair, which benefits missions; do a hands-on project for mission, such as baby layettes, birthing kits or health kits to be used overseas; and share mission studies with the women of Katy First United Methodist Church and Pattison United Methodist Church.

International Missions
Many individuals decide to take part in United Methodist Church-sponsored international mission trips. St. Peter's will assist them with financial aid and material donations as well as our prayers and support.
Compassion International
St. Peter's has a mission partnership with Compassion International, supporting their work in Ecuador where they seek to rescue children from poverty in Jesus' name. As a church we are sponsoring a Child Survival Program and as individuals we are sponsoring children to help them reach their God-given potential. For more information, visit www.compassion.com.
Compassion in Ecuador
Living Water International
St. Peter's has taken mission teams to Honduras, partnering with Living Water International to build water wells. Travel is to a remote part of Honduras to a small village that does not have any clean drinking water. During the week they build a well and teach the villagers about hygiene.
Living Water International

Living Water International exists to demonstrate the love of God by helping communities acquire desperately needed clean water, and to experience "living water"—the gospel of Jesus Christ—which alone satisfies the deepest thirst.
Living Water Mission Trip to Honduras
Hempstead, Jamaica
St. Peter's is involved with a United Methodist church and school in Hempstead, Jamaica, with monetary support plus yearly trips by our high school seniors to do work and bring supplies during spring break. A summer trip has also been added to do Vacation Bible School with the children, as well as doing repairs as needed.

Local Mission Work
Church Without Walls Day
This is a Sunday morning where the congregation goes out into the community to worship with their hearts and hands. With many different projects, we are connecting our community with God's love.
St. Peter's provides monetary and material support for many local area mission ministries such as:

The Helping Kids Ministry provides assistance for homeless children and their families within the Katy ISD school system. If you would like to shop for clothes or be put on the e-mail list to be contacted when needs arise, please contact the church office at 281.492-8031.



For more information on any mission program, please contact Nathan Bledsoe at or (281) 492-8031.