The music ministry of St. Peter's maintains the rich musical heritage of Methodism. The church was born in song and the Wesleys committed their lives to shaping the musical and textual memory of God's people. They formed a lyrical theology by which the faith community could remember who it is and what it is to do. It considers the experience of music to be a spiritual discovery which enables the congregation's worship, and draws them to truths beyond their own ability to imagine or create. Musical experiences and training are offered to all age levels so that gifts will be developed and the church will sing and pray the story of God's redemptive act in Christ both now and in the future.
Our organist is Jeong-Suk Bae. Our pianist is Lael Portwood.
If you would like more information on any of these groups, please contact David Galasso.
St. Peter's Chancel Choir

He put a new song in my mouth, a hymn of praise to God! Psalm 40:3

Come join this wonderful group of friendly people as we rehearse each Wednesday from 7:30 to 9 p.m. in the Ellis Suite rehearsal hall. Childcare is available during rehearsal with a reservation.
The Chancel Choir sings every Sunday morning at the 9:45 and 11 a.m. traditional service and perform special programs throughout the year.

The Chancel Choir on their retreat at Camp Allen in Navasota, TX.


The Chancel Choir had the opportunity to sing at Carnegie Hall on June 7, 2015.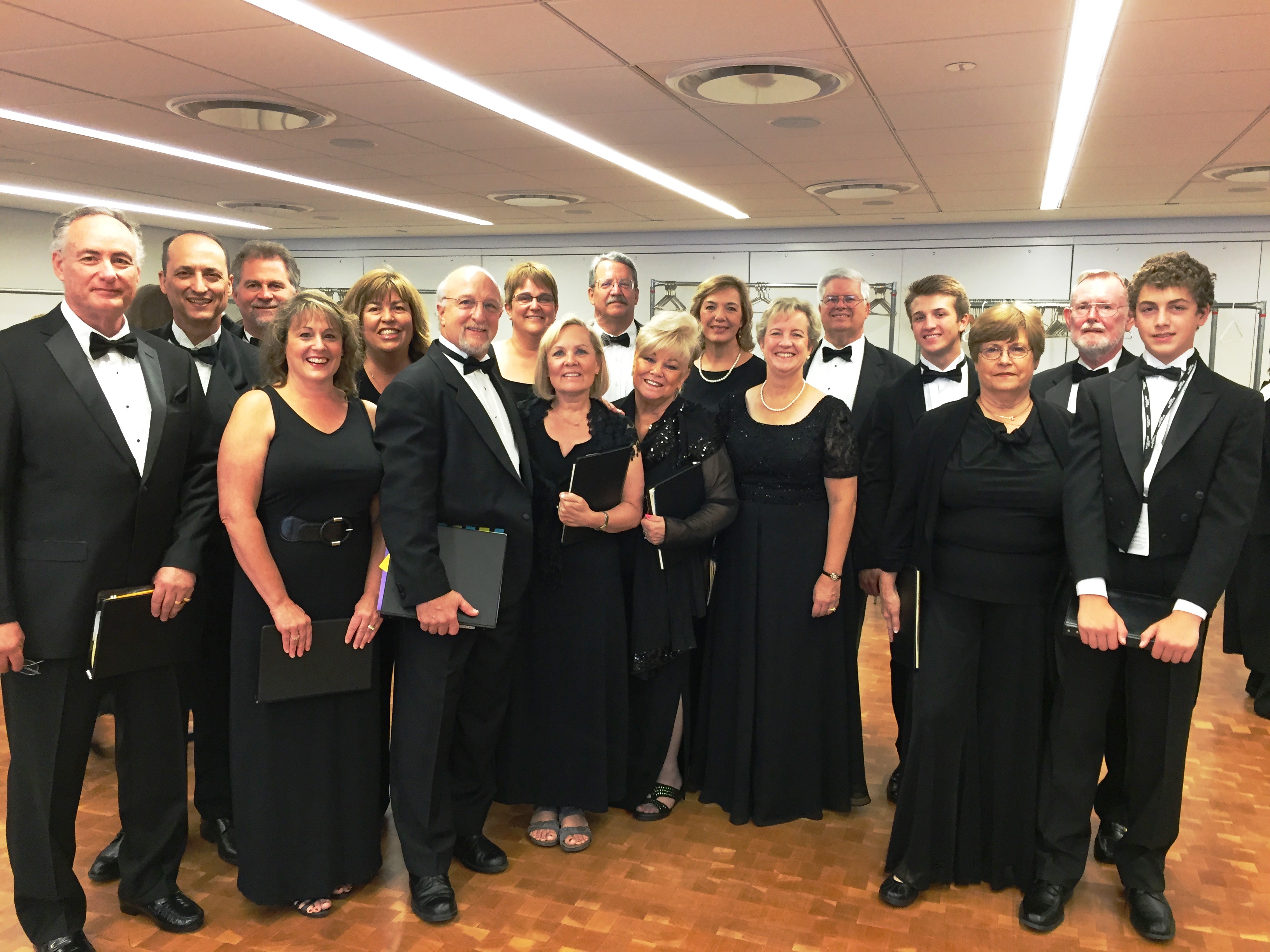 Messiah Singalong
The Chancel Choir hosts the annual "Messiah" Singalong, which draws participants from Katy, Sugar Land, Houston, Tomball, and surrounding areas.
St. Peter's United Methodist Church
Chancel Choir Music Ministry Scholarship Application
St. Peter's United Methodist Church Chancel Choir Music Ministry Scholarships are awarded to high school seniors planning to attend an accredited university, pursue an undergraduate degree in music, and utilize their training in music ministry. Recipients will demonstrate musical and academic excellence as well as leadership in extracurricular activities, community service and moral character. Please contact David Galasso for more information.
St. Peter's Youth Choir
Let us come into His presence with thanksgiving; let us make a joyful noise to Him with songs of praise! Psalms 95:2
The Youth Choir is made up of 50+ singers from sixth through 12th grades. Members gather from all the local schools in the Katy area to participate in this exciting choir, which leads the music for worship each Sunday at our 8:30 a.m. traditional service. The Youth Choir presents a yearly Christmas musical and participates in annual summer tours as far as Alaska, Canada, Florida, Missouri, Colorado, South Carolina, and many states in between. Rehearsals are held each Sunday from 3 - 4:30 p.m. in the Ellis Suite rehearsal hall year round, and new members are always welcome. Church membership is not a prerequisite, and no audition is required. For more information about the Youth Choir, contact Director David Galasso at 281.492.8031.

How to Join the Youth Choir
Any sixth- through 12th-grader is eligible to be a member of the Youth Choir; there is no need to audition. (Sixth-graders transition into the Youth Choir during the summer prior to beginning the fall semester of the sixth grade and "graduate up" to the Youth Choir in the fall.) All interested youth should simply come to the Sanctuary any Sunday afternoon year round for our weekly rehearsal. We begin at 3 p.m., so make plans to arrive a bit earlier to meet Director David Galasso and be issued your music folder. You'll be greeted by friendly faces and enjoy a great afternoon of music and fun!

Click below to read the Youth Choir Handbook.
St. Peter's Orchestra
St. Peter's Orchestra welcomes all instrumentalists to join this organization. This is a great opportunity for players to rehearse and perform with other musicians. Even if you haven't played for a while, we have professional musicians who will work with you to develop your skills. St. Peter's Orchestra is open to anyone in junior high or older, no matter what the skill level. All players are welcome at rehearsals, but will need to demonstrate a certain level of skill to participate in Sunday services. Rehearsals are on Sundays at 7 p.m. and occassionally immediately following the 11 a.m. service on Sunday mornings.
If you can share your talent in this way, please contact Director David Galasso at or (281) 492-8031.
St. Peter's Carillon Bell Choir
Handbell ringing is an exciting music ministry with many special techniques that are as enjoyable to watch as to play. St. Peter's Carillon Bell Choir consists of 14 ringers performing five octaves of handbells and three octaves of handchimes. They perform once a month during the school year and present an annual Christmas program. Contact Joe Williams.

Rehearsals are held each Sunday from 5-6:30 p.m. in the choir room. (Note: the bell choir does not rehearse in the summer months.) Ringers must have basic music reading skills. Prior handbell experience is beneficial but not required. For additional information, please contact David Galasso at 281.492.8031. Come join us!
St. Peter's Grace Notes
The Grace Notes, St. Peter's women's choir, perform in the traditional services about once a month. This group also is an important music ministry in the Katy community, performing in retirement homes, rehab facilities, Alzheimer's facilities, nursing homes and at church-related functions. We welcome all women from the Katy community (singers and instrumentalists) to join us in this wonderful ministry. Rehearsals and community performances are on Tuesday mornings from 9:30 - 11:30 a.m. For more information, contact Gail Shipley.

One A-Chord
One A-Chord is a male and female Christian singing and entertainment group under the direction of Gail Shipley. We provide an uplifting program for residents of retirement, nursing, and assisted living homes in the Katy area. We welcome singers and instrumentalists from the Katy community to join us in this wonderful ministry. Rehearsals and performances are on Monday mornings from 9 a.m. - 12 p.m. For more information contact Gail Shipley.
St. Peter's Men's Ensemble
The St. Peter's Men's Ensemble is a choir that is just for men. They rehearse from 8:00-9:15 p.m. on Mondays in the rehearsal hall from August-June. They sing at least once a month for the 8:30, 9:45 and 11:00 a.m. traditional services and are one of the most highly regarded musical groups at St. Peter's, with a diverse repertoire. The men are featured singers for many of the major sporting events in Houston such as the Houston Astros and Houston Rockets. They are in demand for a variety of venues throughout the year.

The Men's Ensemble is a dedicated and fun-loving group that continues to grow in fellowship and spirit. At the end of each rehearsal, the men will take time to share joys and concerns for family, friends and members of the community. Whenever the men sing, they wear slacks and a polo shirt with the church's logo on the front. There are no robes to wear, which pleases the men in the group. For more information, contact David Galasso at 281.492.8031, ext. 328.
Men's Gospel Quartet & Bluegrass Band
St. Peter's has been richly blessed with many gifted musicians, and sometimes it is a challenge to find an outlet for their many talents. The Men's Gospel Quartet was birthed from the vision of a group of men who had the desire to sing "old time" gospel music. The quartet meets once a week for an hour on Mondays at 9 p.m. They rehearse to prepare for opportunities to sing in the services at St. Peter's and throughout the community. They sing such favorites as "He Made a Change," "I'll Fly Away," and many more. The Bluegrass Band is still in its beginning stages and rehearses once a week on Mondays at 7 p.m. We are always looking for additional musicians, so contact David Galasso at 281.492.8031 , ext. 328, if you are interested. We can use musicians who play banjo, guitar, bass, trap set, and mandolin.
KIDS JAM Children's Choirs
KIDS JAM provides an opportunity for children to share God's love through music. On Wednesday nights, our main activity is singing, playing instruments, and moving to music while having fun as the children learn about Jesus. Sharing the love of Jesus through music is also experienced as we sing in worship and perform a Christmas musical.
Click the box for the KIDS JAM webpage for more details.